Airborne DC Dual
To kommunikasjonskanaler og mange grensesnitt for tilkobling. Til montering i sentralapparat eller sin egen innhegning. Airborne DC Dual er en alarmsender for deg som trenger alarmkommunikasjon via to uavhengige alarmoverføringsveier. Den anbefales til steder der det stilles ekstra høye krav til tilgjengelighet.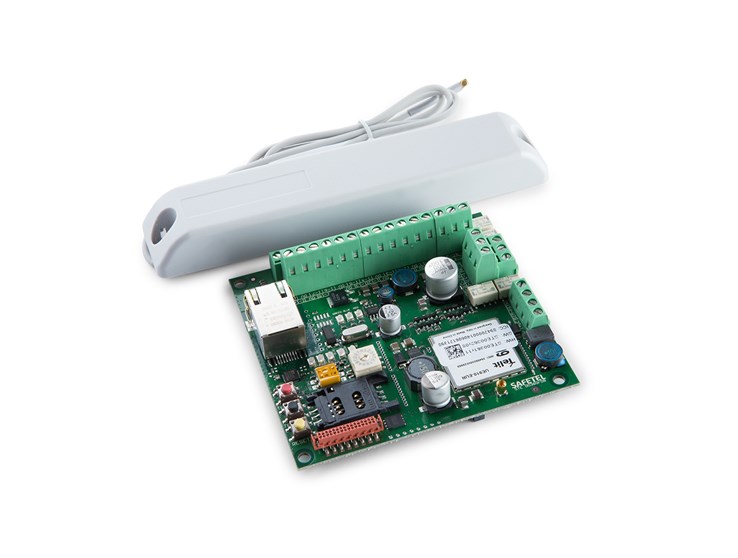 Ved å bruke både mobilnettet (2G/4G) og en fast IP-forbindelse sørger Airborne DC Dual for at forbindelsen blir så tilgjengelig og sikker som mulig.
Airborne DC Dual er tilpasset seriell overføring av for eksempel SIA fra innbruddsalarmer eller ESPA-444 fra brannalarmanlegg. Analoge protokoller basert på tonesignaler, som Contact ID og Robofon, digitaliseres før alarmen overføres. Med 16 innganger og 4 reléutganger dekker senderen de fleste behov for sikker alarmoverføring.
Fordeler
Tilgjengelig i flere størrelser, med eller uten kabinett og reservebatteri.

Rask og enkel å installere.
| | Airborne DC | Airborne DC8 | Airborne DC Dual | Edge VS5051 |
| --- | --- | --- | --- | --- |
| Brannalarm SBF 110:8 | X | X | X | - |
| Innbrudd Grad 2 | X | X | X | - |
| Innbrudd Grad 3-4 | - | - | X | - |
| Heisalarm | - | - | - | X |
| Teknisk alarm | X | X | X | (X) |
| Antall innganger | Se kommentar | 8 | 16 | (X) |
| Antall utganger | Se kommentar | 2 | 4 | 4 |
| Ethernet | - | - | 1 | 2 |
| Serieport | RS232 | RS232 | RS232 | RS232/RS485/TTL |
| Dial Capture(PSTN) | X | X | X | X |
| 4G | X | X | X | X |
| SIP voice client | - | - | - | X |
| Kapsling | (X) | (X) | (X) | Metall |
| Batteribackup | (X) | (X) | (X) | X (3000mAh) |
| Strømforsyning | 7,2-28 VDC (80mA ved 15VDC, max 150mA<1s) | 7,2-28 VDC (80mA ved 15VDC, max 250mA<1s) | 7,2-28 VDC (140mA at 15VDC, max 700mA<1s) | 10,5-28 VDC (200mA at 12V / 500mA at 12V lading) |
| Eksternt antenneuttak | MMCX Hunn | MMCX Hunn | MMCX Hunn | MMCX Hunn (2) |
| Protokoll | SIA, Contact ID, Robofon, Scancom, ESPA, Larmnet, Texecom Simple, Integra, S25 | SIA, Contact ID, Robofon, Scancom, ESPA, Larmnet, Texecom Simple, Integra, S25 | SIA, Contact ID, Robofon, Scancom, ESPA, Larmnet, Siemens EDP, Texecom Simple, DC09, Integra, S25 | CPC, P100 (2N, SAR) |
| Kommentar | Kapsling med eller uten batteribackup finnes som tilleggsvalg. 2 digital innganger som også kan brukes som styrbare utganger. Fastlåst SIM-kort (Link). | Kapsling med eller uten batteribackup finnes som tilleggsvalg. | Kapsling med eller uten batteribackup finnes som tilleggsvalg. | Triggere for teknisk alarm (ikke målinger). Fastlåst SIM-kort (Link). |